Canon Camcorder Repair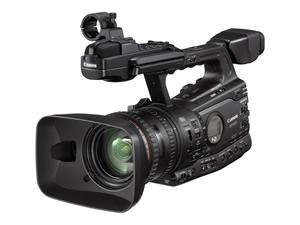 When it comes to Canon Camcorder repair, Video One Repair is one of the best choices in the country. We specialize in Canon Prosumer/Professional Camcorder Repair. Being a Canon Camcorder repair specialist provide you with many benefits. Here are just a few of the reasons we have become the #1 Choice for so many Videographers in the U.S.
We Specialize in Canon Professional and Prosumer Camcorders. Specializing provides you with many great benefits. Specialization in Canon means we know your camcorder inside and out. For years we've been servicing your model and other similar Canon Camcorders. This experience is invaluable in providing you with a repair that is done right the first time — Quickly.
Faster Service than most companies today! Because we specialize in your Canon Camcorder, we keep parts most often needed for your Canon Camcorder service. Most of our repairs are turned around within a week — and we offer FREE RUSH JOBS!
We use genuine Canon Camcorder Replacement Parts. While some camcorder repair companies you find today use non-OEM parts, we demand only the best! Genuine OEM Canon parts gives us the confidence to provide you with our industry-leading outstanding warranty — Easily! Inferior parts that OTHER companies may use mean a repair that doesn't last as long or can cause problems elsewhere in your camera.
Industry-Leading Warranty! Our experience has made us so confident in our skills and the parts we use, we easily offer one of the longest video camcorder repair warranties in the country. We provide six months warranty for parts and labor — on your ENTIRE CANON CAMCORDER!
Free Return Shipping! A hidden charge you never see coming with OTHER companies is the shipping and handling charges to send your Canon Camcorder back to you after it's repaired. At Video One Repair, we pay for the return shipping, not you.
Free Estimates! Once we receive your camcorder, we go through it to identify the problem and solution. We then contact you with an estimate for repair BEFORE we begin the repair. Our experience makes our estimates extremely reliable.
Speak to a technician, LIVE! At Video One Repair, you can call our main number and ask to speak with a technician about your camcorder repair. This can be very useful in identifying problems and finding out how we can best help you get your camera back up and running fast.