You found us, you must be having a problem with your Sony Alpha Mirrorless Camera.

First of all, don't panic. In many cases, those pesky camera system error issues can be diagnosed and fixed easily. Accidents will happen. Maybe your camera got knocked, exposed to moisture, or mistakenly plugged into the the wrong power source. That will definitely do a number on your gear. But, whatever happened, no judgements from us – we're focused on getting you back to shooting right away.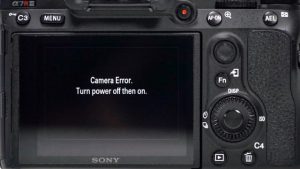 What Causes Camera Error. Turn Power Off Then On?

You might see this message after powering your camera on, or suddenly after shooting normally without any issues. Most likely, it's a stuck shutter – but not always. Here's a list of the usual suspects that might be causing this error message on your LCD screen. 
Shutter Assembly Malfunctioning

The shutter is stuck or not functioning properly. This is a common problem for cameras, as this assembly can be damaged from impact or rough handling. The shutter can also go bad because of normal use.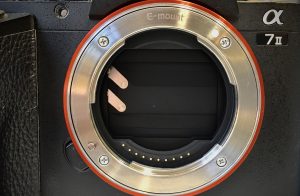 IBIS (In-Body Image Stabilization) Won't Initialize
The IBIS assembly can go out of alignment due to an impact or rough handling . This is a common problem – usually  corrected through a reset, or re-initialization process  – but not always (see instructions below for resetting the camera).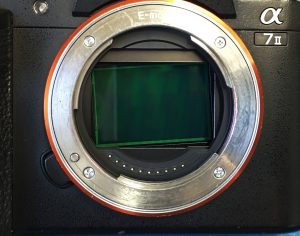 Sony camera IBIS assembly out of alignment.
Electronic Circuit Drive Problem

If your Sony camera was accidentally plugged into the wrong power source, it might have shorted out the circuitry, which keeps power from getting to your shutter, or to the IBIS assembly.
Do-it-Yourself Troubleshooting Steps

First, try turning the camera off, then back on (just like it's telling you). If that worked, you're golden. Carry on – but pay attention to what might have caused the issue in the first place.
Next, if the camera remains locked up, meaning, you can't power it down, try removing the battery, or unplugging the camera from its power source. Then, replace the battery, or plug the camera back in to the proper power source, and power on. This should reset the shutter or IBIS.
If removing the battery or power source doesn't fix the camera error, you may have one last trick up your sleeve. If you can access the camera's menu, navigate to the Setting Reset screen, here you will have two options: Camera Settings Reset, or Initialize, choose Initialize. This will reset your camera to a factory reset. Please be aware that this removes any custom settings you may have.


Resetting or Initialize Sony A7Sii Camera


Setting Reset menu options.
If none of these steps solve your problem, your camera will need to be repaired by a professional.
From amateurs to professionals, we understand the importance of getting you back behind the camera as quickly as possible. With the fastest turnaround times in the industry and the largest stock of Sony OEM replacement parts, we can repair your Sony Alpha camera within one week once the repair estimate is approved.
Need it even faster? We offer 1-2 day rush repair service at no additional cost.