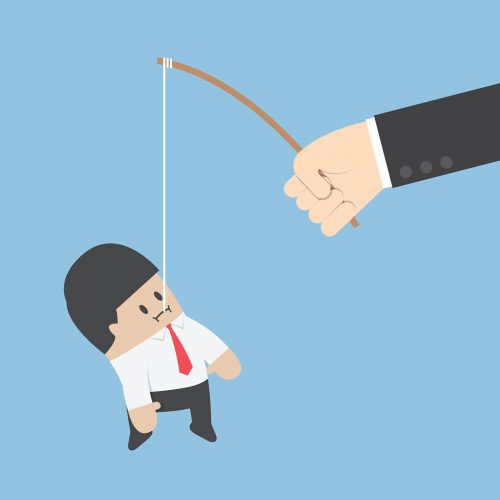 You are a busy videographer with a steady stream of clients. When your video camera breaks, you want and need it to be fixed quickly. You call or worse yet you email a shop to discuss getting it repaired. They don't ask many questions, spend less than 5 minutes with you on the phone and give you an exact estimate for the repairs right over the phone or via email.
The price is right and they say it will only take three days for the repair. You send in your camcorder and get on with your day, happy to get the issue resolved so you can be back to work soon and even more content you will not have to pay as much as you had anticipated.
After they receive your camcorder, you get a call back. You are told it will cost triple what you were quoted and they don't have the parts is stock so repairs will take longer.
There is nothing you can do. You do not have time to waste calling around for more estimates and then having to deal with a different shop. What if the same thing happens again? You agree to the higher price and wait for it to be sent back and hope for the best. Now you have a bad feeling about this repair center and whether or not you should ever be doing business with them.
Bait and Switch Tactics Used Because It Works
For many repair facilities, it's all about marketing, this is how they get customers through their door. Instead of using the quality of their work, their reputation, and excellent customer service they use Bait and Switch. Repair shops will intentionally quote an obscenely low amount for a repair that they know will cost four times as much. They know from talking with you that it is highly likely a part that will need to be replaced is $400. But they still quote you a total of $100 for parts and labor.
Why?
Because once they get you to send in your camcorder, they know you are likely to pay any additional costs in order to get it fixed as soon as possible so you can get back to work. They know you are a busy professional that does not have time to go from shop to shop getting additional estimates.
After you send in your camcorder they call to tell you it has been disassembled and that the original estimate was incorrect.
They are hoping that you will just approve the repair, since the camcorder is already at their shop and you need it repaired.
Video camera repair shops use this bait and switch tactic because it works. That's why. But with a little knowledge and foresight, you can prevent yourself from being victimized.
Where There's Smoke There's Fire
Any repair shop that is using this tactic is not a service center that you want to be doing business with. Not only do these repair shops use bait and switch but they use many other shady practices that are not in your best interest. Poor quality repairs, being charged for parts that were not replaced, counterfeit parts, and poor customer service is common practice with these shops.
Read more about Counterfeit Repair Parts.
If It Sounds Too Good To Be True It Probably Is
If you contact a shop about a problem you are having with your video camera and they do not spend much time asking you questions, give you an estimate without telling you they need to first look at it to actually diagnose the problem – you may be being swindled.
Many problems simply cannot be assessed without the camcorder being taken apart by a skilled technician and evaluated. As an example, say you dropped your camcorder and now it's not focusing correct or maybe it's going into lens error.
The video camera may simply need to be re-calibrated, have connection issues or have more serious issue like needing to replace a bad lens. You won't know until a repair technician disassembles the camcorder to evaluate and properly diagnose it.
There are some issues that are straight forward. For example replacing a headphone jack. A service center should be about be give you an accurate estimate on replacing this part without seeing the camcorder. Unfortunately this does not stop repair shops from still using the bait and switch tactic. They will give you an estimate via email or over the phone, only to tell you that the camcorder needs a new audio board and headphone jack after they receive the camcorder in for repair increasing your estimate substantially.
Who should you trust and send your camcorder to?
Common Sense the Best Defense
Before you make the decision to send in your video equipment and let a shop handle the repair, do your due diligence. It will not take much of your time but could save you a ton of time and hassle. Bait and switch is a common tactic, you want to make sure you are not the one being hustled.
It is easy to do a simple Google search on the company and:
Read their reviews on websites such as Yelp or Google.
Check their Better Business Bureau (BBB) rating.
You want to find repair shops that other customers have had good experiences with. And call around to a few different ones, see what they tell you. In general, all should be quoting you an amount that is in the same, general ballpark; $500 repairs simply do not get done for $100.
In addition, know that many shady repair companies put up multiple websites and have 10+ registered company names. They lack integrity and are doing all that is possible to pull in non-suspecting camcorder owners they can take advantage of.
Don't let that be you. Be aware when you call around to make sure you are actually talking with different companies, not the same one over and over. Call and ask questions before sending your camcorder in for the repair.
Trust Your Instincts
Never send your camcorder in to any repair facility without calling first. Ask a lot of questions. Does the shop genuinely seem interested in helping you over the phone? Are they more interested in getting you off the phone? Do they have a just send it in attitude?
At Video One Repair we will talk to you about your individual problem in detail and if possible will give you an honest estimate or estimate range over the phone. We take great pride in giving as accurate and straightforward information over the phone as possible.
We are also always available to troubleshoot any problem you are having with your camera or camcorder over the phone to confirm whether there is a problem with the camera or if it's possibly just a user error.