Sony Camcorder Repair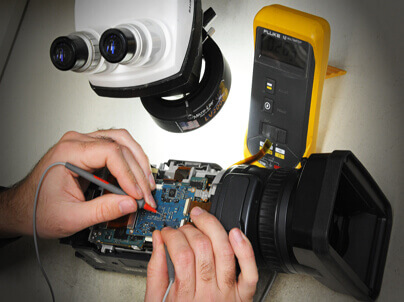 Video One Repair is your #1 Choice for Sony Camcorder Repair in the US. Most of our clients are professional videographers and consistently choose our company for many quality reasons:
We Specialize in Sony Professional and Prosumer Camcorders. We only work on a small number of Sony video cameras. Specializing provides you with many great benefits.
Faster Service than most companies today! Because we specialize on a smaller number of Sony video cameras, we keep on hand a large inventory of Sony genuine parts.  Most of our repairs are turned around within a week — and we offer FREE RUSH JOBS! All repairs are done here on our premises, no video camcorder is ever sent out to another service center.
We use genuine Sony Camcorder Replacement Parts. While some camcorder repair companies you find today use non-OEM parts, we demand only the best! Genuine OEM Sony parts gives us the confidence to provide you with our industry-leading outstanding warranty — Easily! We also use all the latest test equipment, factory service software and necessary equipment to preform the repairs on your camcorder to factory specification.
Industry-Leading Warranty! Our experience has made us so confident in our skills and the parts we use, we easily offer one of the longest video camcorder repair warranties in the country. We provide six months warranty for parts and labor — on your ENTIRE SONY CAMCORDER!
Free Return Shipping! No hidden charge. We will send your Sony Camcorder back to you at no charge even if you do not have it repaired. At Video One Repair, we pay for the return shipping, not you.
Free Estimates! Once we receive your camcorder, we go through it to identify the problem and solution. We then contact you with an estimate for repair BEFORE we begin the repairs. We take the time to properly diagnose your Sony camcorder and will call you with a detailed estimate. Because of our experience our estimates are accurate. We don't just take a guess as to what the problem is, we run all the necessary tests to properly diagnose your video camera.
Speak to a technician, LIVE! At Video One Repair, you can call our main number and ask to speak with a technician about your Sony camcorder repair. This can be very useful in identifying problems and finding out how we can best help you get your video camera back up and running fast. One of our experienced technicians would be happy to speak to you in detail about the problem you are having. We offer free technical support, even if you just have a question about the operation of your Sony camcorder.